Innovation of Department Store
Innovation of Department Store

"Main building of Daimaru Shinsaibashi store" as a hybrid department store
Big project positioned as a symbol of innovation of the Department Store Business to overcome the complex challenges facing department stores ―― On September 20, 2019, the main building of the Daimaru Shinsaibashi store was reborn as an unprecedentedly "exclusive" store that merges "tradition" and "innovation" in every aspect from store space and store planning to operation. While using the "beauty of Vories architecture," which colored the former Shinsaibashi store, in many parts of its exterior and interior, we merged it with modern design to create commercial space that provides physical store's unique "experience value."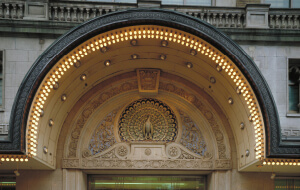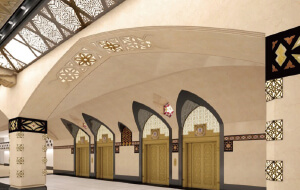 On the other hand, the business model is completely different from conventional department stores. It is based on an innovative layer structure in which fixed-term lease accounts for approximately 65% of total floor area. Traditional department stores mainly purchased products on a no return basis, which is called kaitori in Japanese. But later, a new form of transaction called shoka shiire emerged. In shoka shiire, purchase is recorded when the product is sold to a customer and the product is not recorded as department store inventory. Shoka shiire occupied 80% in the 1980s. In the current low-growth and highly uncertain period, however, over-dependence on shoka shiire will not only make us ignore challenges to new markets but also increase the risk of decreasing profitability. Therefore, we asked ourselves what the new business model that increases the appeal of the store and maximizes revenue is like and one of its answers was realized in the new building of the Shinsaibashi store. It is an epochal hybrid department store business model with an optimally balanced mix of the advantages of kaitori and shoka shiire and the advantages of fixed-term lease while it is completely seamless from a customer perspective.
And we would like to apply the results of this new trial to other stores as a "new scalable department business model" by customizing them according to the characteristics of individual stores and areas.
Also as a flagship store with an ESG perspective
We identified seven materiality issues*1 to be prioritized to realize a "sustainable society" and the entire Group strives to produce results. It is also an important point that this new main building of the Shinsaibashi store was created from such perspective. Specifically, renewable energy is used for all power needs in the building and LED units were installed in all lighting fixtures in the building including the back stockrooms. We will aggressively implement initiatives to create a low carbon and circular society with the cooperation of customers and suppliers by centrally controlling deliveries in the building to reduce delivery operation time and eliminate the congestion occurring when carrying products in and out, promoting the use of green packaging materials, permanently installing clothes collection boxes as an activity named ECOFF*2.
The strengths of the Shinsaibashi store are many affluent customers and the ability to pull in the greatest number of inbound tourists in Japan. While further strengthening these strengths, we will "create added value" including new services and experiences only available in real sores.
*1 The Group's seven materiality issues include: "realization of decarbonized society," "promotion of circular economy," "management of the entire supply chain," "coexistence with local communities," "realization of customers' healthy/safe/secure life," "promotion of diversity inclusion" and "realization of work-life integration."
*2 Campaign implemented by Daimaru Matsuzakaya Department Stores to recycle clothes, shoes, bags, etc.