Initiatives to Realization of Carbon Neutrality
Initiatives to Realization of Carbon Neutrality
Scope 1 and 2 GHG Emission Reduction Addressed Ambitiously
The Group's Scope 1 and 2 GHG emission reduction targets for 2030 (compared to fiscal year 2017) were approved by the SBT initiative* in 2019. In 2021, as we improved our materiality issues, we revised up our reduction target from 40% to 60%.
In the Officer Remuneration Policy revised in May 2021, we set Scope 1 and 2 GHG emission reduction targets as an indicator to determine performance-based remuneration, and by doing so, we clarified the responsibilities of the management.
Going forward, we will aim to realize a decarbonized society by switching to LED lighting and electrifying more company vehicles as well as switching to renewable energy to achieve the reduction targets.

* Global initiative established for the purpose of promoting the achievement of science-based GHG emission reduction targets to limit the temperature increase to below 2˚C compared to pre-industrial levels
FY2021 Scope 1 and 2 GHG Emission Results
In fiscal year 2021, the Group's GHG emissions were 122,8126 t-CO2, down 7.0% compared to fiscal year 2020.
The Group's GHG emissions also decreased by 36.7% compared to fiscal year 2017, which is its SBT base year. Thus we are making good progress toward the achievement of SBT.
* Scope 3 GHG emissions
FY2021 Scope 1 and 2 GHG emission results
FY2021

vs. FY2020

vs. FY2017
(SBT base year)

Emissions
(t-CO2)

Change
(t-CO2)

% change
(%)

Change
(t-CO2)

% change
(%)

Scope1

14,004

2,021

16.9

▲2,048

▲12.8

Scope2

108,808

▲11,315

▲9.4

▲69,294

▲38.9

Scope1・2
Total

122,812

▲9,294

▲7.0

▲71,342

▲36.7
* Received third-party assurance from LRQA Limited
Expand Share of Renewable Energy
The Group proceeds with the switch to renewable energy in major stores and offices in a planned way since fiscal year 2019. As a result, share of renewable energy was 20.3% in fiscal year 2021, up 10.0% compared to fiscal year 2020.
The Group joined RE100 (100% Renewable Electricity)* in October 2020 and set a target of sourcing 100% renewable energy to power business activities by 2050. We also set an interim target of achieving 60% renewable energy by fiscal year 2030.
Going forward, the Group will strengthen the switch to renewable energy mainly in the stores of Daimaru Matsuzakaya Department Stores and Parco to achieve RE100.

* Global initiative that aims to source 100% renewable energy to power business activities by 2050

Steady Progress of the Switch to Renewable Energy in Stores
In November 2020, Shinsaibashi PARCO made its grand opening as a store that sources 100% renewable energy to power the entire building. Along with the Daimaru Shinsaibashi store, which opened earlier, it serves as the Group's ESG model store.
In fiscal year 2021, Hiroshima PARCO and Fukuoka PARCO also switched to 100% renewable energy. Thus the switch to renewable energy in the Group's stores is making steady progress.
We think the switch to renewable energy in stores will enhance their value and obtain support from environment-conscious customers and suppliers.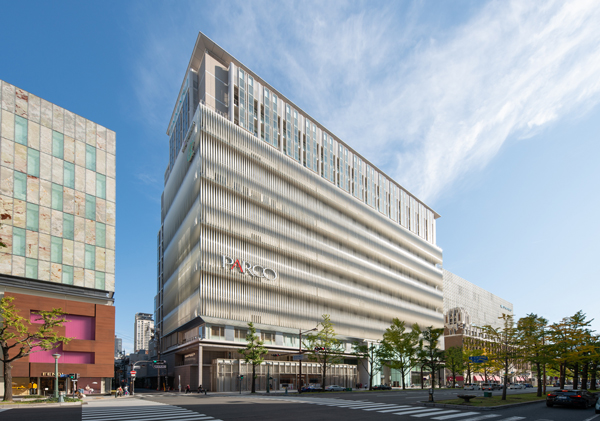 Initiatives to energy-saving
New Shibuya Parco―environmentally friendly next generation building
Shibuya Parco which opened on November 22, 2019, as a "Leading project for sustainable building initiative (CO2 reduction initiative)" for the following features: (1) Attractive outdoor space including roof top square and multi-level pathways; (2) Proactive installation of high-efficiency energy system including a cogeneration system (CGS)※; and (3) Use of digital communication technology to promote efficient energy use. In addition to installing the latest equipment and fixtures, we also "visualized" energy efficiency for energy management systems so as to make it a multi-purpose commercial space showcasing efficient energy use with lower CO2 emissions.
※ Cogeneration system (CGS): System that simultaneously produces and supplies electricity and heat from a single energy source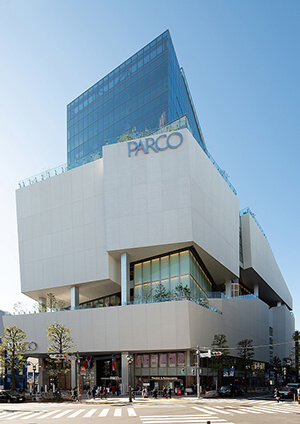 Promoting the installation of high energy efficient equipments and LED lightning
The Group adopts various energy saving measures to reduce CO2 emissions and prevent global warming. High energy efficient equipments are installed on the occasions of facility replacement, store renovation and new store opening.
Daimaru Matsuzakaya Department Stores strives to reduce electricity consumption and CO2 emissions by replacing existing lighting with LED units. A total of approximately 205,000 LED lighting units, which account for approximately 48% of total, were installed during the period from fiscal year 2010 to fiscal year 2018 and all of approximately 430,000 relevant lighting fixtures will be replaced with LED units by fiscal year 2025.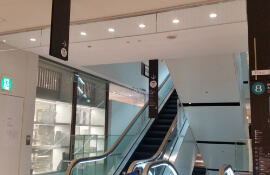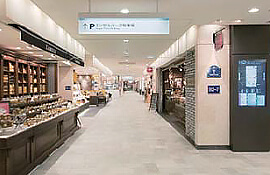 Initiatives to Create Energy
The Group thinks stable procurement of energy including electricity will become a very important risk.
Going forward, we will consider energy creation measures using idle properties such as facilities held by the Group and strengthen resilience by expanding in-house consumption of renewable energy and diversifying energy sources.
Currently, at the Daimaru Kyoto store, a solar panel is installed on the wall of the store to partly power digital signage and external signs.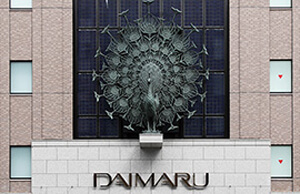 Ginza Six was certified as an "Urban Oasis" under SEGES
In October 2017, the rooftop garden of Ginza Six "Ginza Six Garden" was certified as an "Urban Oasis" under the "SEGES (Social and Environmental Green Evaluation System)*" (administered by the Organization for Landscape and Urban Green Infrastructure), which recognizes comfortable and attractive urban green areas.
The Ginza's largest about 4,000-square-meter rooftop garden "Ginza Six Garden" is located on the roof of the about 56-meter-high building with 13 floors above ground. A green area of approximately 2,200 square meters, which accounts for about 56% of the rooftop garden, was newly created. Our large-scale greening efforts in the prime downtown location were highly recognized and we obtained such certification.
*SEGES:(Social and Environmental Green Evaluation System) A system to recognize and certify outstanding green areas of the companies that contribute to society and the environment through greening activities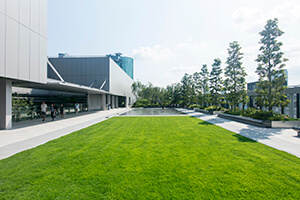 Promotion of Eco Driving
Daimaru Matsuzakaya Department Stores replaced 125 company cars out of a total of 298 cars with EVs by March 2021. We will switch all company cars to EVs at the time of replacement to reduce CO2 emissions.
Daimaru Matsuzakaya Department Stores has adopted the "telematics" system (mobile telecommunication system) for the external sales vehicles of the Out-of-Store Sales Divisions of Daimaru and Matsuzakaya stores since September 2011. The "telematics" system digitizes the driving status of persons in charge including excess speed, abrupt acceleration/deceleration and gas mileage. The safe operation committee holds a meeting every month and the stores that adopt the system use the data of "telematics" system to help improve fuel economy, implement eco driving, which emits less CO2, and drive safely.
The Out-of-Store Sales Division of the Matsuzakaya Nagoya store, which operates 96 external sales vehicles (in March 2021), uses the telematics system and provides the members who drive vehicles with eco driving training during safe driving training sessions and asks them to write their own approach to driving by themselves in the "Environmental and Social Activities Pocket Manual" as a part of ISO education to raise awareness.
In recognition of these efforts, they were given an award for excellence in the general category of the "Eco-Drive Activity Contest" held by the Foundation for Promoting Personal Mobility and Ecological Transportation in 2016.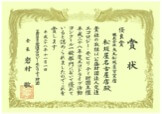 Installed electric vehicle charging stations
Angel Park and the Daimaru Shinsaibashi and Matsuzakaya Nagoya stores of Daimaru Matsuzakaya Department Stores in the Group installed electric vehicle charging stations to help reduce CO2 emissions. Angel Park installed two electric vehicle charging stands (200V) in the south parking area of Angel Park, one in the north parking area, and one in the parking area of Yaba Park.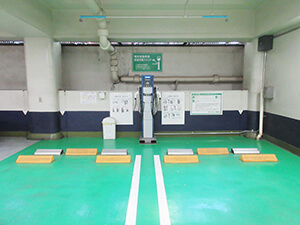 Realization of Decarbonized Society
Corporate Information

IR Information

Management policy

Strategies

Financial Information

IR Library

Share and Bond

Sustainability

View of Sustainability

Materiality Issues (Important Issues)

Realization of Decarbonized Society

Promotion of Circular Economy

Management of the Entire Supply Chain

Promotion of Diversity & Inclusion

Realization of Work-Life Integration

Realization of Customers' Healthy/Safe/Secure Life

Coexistence with Local Communities

News & Topics

Recruit