Social Contribution Activities with Customers
Social Contribution Activities with Customers
Operating companies in the Group including Daimaru Matsuzakaya Department Stores and Parco are engaged in social contribution activities with customers in collaboration with NPOs and external institutions.
Pink Ribbon Campaign
Daimaru, Matsuzakaya, Parco and JFR Card are involved in the "Pink Ribbon Campaign," an awareness activity to promote early diagnosis, detection and treatment of breast cancer. Mainly on "Mother's Day" and in "Pink Ribbon Month (October)," at the Daimaru and Matsuzakaya stores, we conduct educational activities including the distribution of awareness booklets and screening experience on a mammography van as well as donating proceeds from the sale of original pins to a Pink Ribbon awareness organization.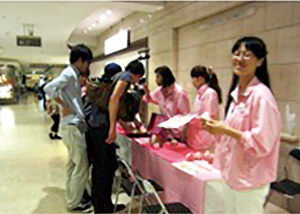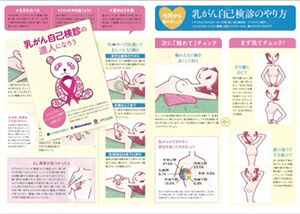 Blue Clover Campaign
Daimaru Matsuzakaya Department Stores supports the "Blue Clover Campaign," which provides correct knowledge on increasingly prevalent prostate cancer among men and promotes "early detection and appropriate treatment," as well as the Pink Ribbon Campaign.
When we held an awareness event in the Matsuzakaya Ueno store in June 2018, we received many responses from female customers though it is a male cancer. And we found that it is effective that female customers tell their close family members the importance of prostate cancer screening. We will hold this event in all 17 stores including associated department stores in November 2018.
We support the "Blue Clover Campaign" by raising money in stores and selling Blue Clover pins featuring our original character Sakura Panda, which is popular among a wide range of ages. Hoping that as many customers as possible will have a prostate cancer screening, we provide an original leaflet "Have a PSA Test!" free of charge.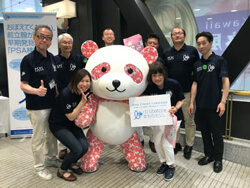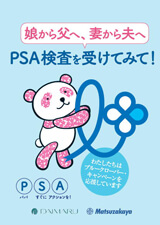 Table for Two
Daimaru, Matsuzakaya supports the activities of the authorized non-profit organization "Table for Two International" (TFT), which helps provide school meals for children in developing countries, by donating a portion of sales at their restaurants and staff cafeterias.
Daimaru and Matsuzakaya join TFT's "One Million People to Share TFT Meals!" campaign on October 16, "World Food Day," every year and offer TFT meals at their restaurants and cafes.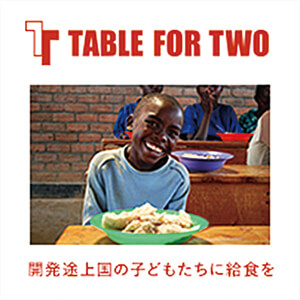 Love 49 Project
We participate in the prevention and awareness activities for cervical cancer implemented by the "Love 49 Project" that designates April 9 as "Uterus Day." We hand out newsletters in the Daimaru and Matsuzakaya stores in cooperation with local cytotechnologists while selling button badges and collecting money in these stores to donate to the authorized non-profit organization known as "Orange Clover," which is working to raise awareness of cervical cancer.
The Daimaru Suma store serves as a venue for the "Love 49 Campaign in Kobe" organized by the "'Uterus Day' Love 49 Hyogo Committee" and provides opportunities for various organizations to make presentations.
We also continue to donate a portion of the proceeds from the sale of our original eco bags to support their activities every year.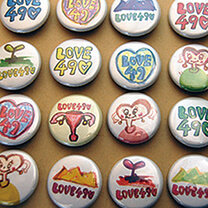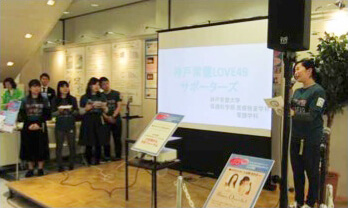 Support for Affected Areas
The Group donates money to support reconstruction of the areas affected by natural disasters, which are becoming larger in scale recently. We thought we need to formulate new donation guidelines to enable prompt and fair donations in emergencies caused by unexpected disasters. After a lot of discussions at the Group Management Meetings and the Board of Directors meetings, we formulated "The Group Donation Guidelines" in October 2018. The guidelines enable prompt donations to the affected areas.
Daimaru Matsuzakaya Department Stores raises money in each store. In addition we support the affected areas through our core department store business, for example, by actively selling the local products of the affected areas.
Major donations
Disaster

Donor

Amount donated
(millions of yen)

Recipient

Great East Japan Earthquake

J. Front Retailing

30

Japanese Red Cross Society

Kumamoto Earthquake

J. Front Retailing

10

Japanese Red Cross Society

Parco

10

Japanese Red Cross Society

Torrential rains in July 2018

J. Front Retailing

10

Japanese Red Cross Society

Hokkaido Eastern Iburi Earthquake

J. Front Retailing

10

Japanese Red Cross Society

Typhoon No. 19 in 2019

J. Front Retailing

10

Japanese Red Cross Society
Major Charity Support in Fiscal 2020 (Daimaru Matsuzakaya Department Stores)
Recipients

Details

Amount of donations(Thousands of yen)

WWF Japan

Gave one shopping support ticket in exchange for one item collected through the ECOFF Campaign and asked customers to put all or some of their tickets, which would not be used, in a donation box. Donated to WWF Japan's activities to prevent global warming at a conversion of 100 yen per ticket.

756

Japanese Red Cross Society

Donated the full amount raised in stores and employee facilities through the Japanese Red Cross Society to the areas affected by:

 

 ・Torrential rains in July 2020

1,310

 ・Typhoon No. 19 in 2019

175

National Center for Global Health and Medicine

Asked customers who wanted to enter the store but did not wear a mask to donate at least ¥50 when giving a mask in stores. Donated the full amount thus raised to support the research and treatment of COVID-19.

5,757

Authorized NPO TABLE FOR TWO International

Donated the money raised through the TABLE FOR TWO Fair, a portion of the proceeds of the sale of special menu items, etc. to help provide school meals in developing countries.

220

Authorized NPO Orange Clover

Donated the money raised through the LOVE 49 Campaign, a portion of the proceeds of the sale of original eco bags, etc. to support cervical cancer prevention awareness activities.

219

Local Pink Ribbon support groups

Donated the money raised through the Pink Ribbon Campaign, a portion of the the proceeds of the sale of original pins and beverages from Pink Ribbon wrapped vending machines, etc. to support bread cancer prevention awareness activities.

333

Authorized NPO Prostate Cancer Education Council in Japan

Donated the money raised through the Blue Clover Campaign, a portion of the proceeds of the sale of original pins, etc. to support prostate cancer prevention awareness activities.

53

Tokyo Zoological Park Society

Donated to the Giant Panda Conservation Support Fund

634

Japanese Association of Zoos and Aquariums

Set up a special charity site during the Let's Buy, Eat and Be a Part! Campaign held in September as one of the Think LOCAL initiaitves to introduce to customers the activities that help support local communities and children and donated to the recipients chosen by customers.

107

Save the Children Japan

102

NPO National Children's Cafeteria Support Center MUSUBIE

106

Specified NPO KATARIBA

107

Public University Corporation Nagoya City University

107

NPO Osaka Neko Club

Asked customers to put in a donation box the Happy with Cats Cards, which were given with the purchase of cat-related products, during the event that supports activities to help shelter cats, which was held on each floor of the Daimaru Umeda store, and donated to the groups that help shelter cats at a conversion of 100 yen per card.

150

Specified NPO C.O.N

104

Total

10,240
Realization of Customers' Healthy/Safe/Secure Life