Environment Management System
Environment Management System
Joined RE100
The Group joined RE100 (Renewable Energy 100) in October 2020. RE100 is a global initiative that aims to source 100% renewable energy to power business operations. Going forward, we will make proactive efforts across the Group to achieve our SBTi-approved targets by expanding the use of renewable energy and other means.

Approved by SBT Initiative
The GHG emissions reduction targets set by the Group were approved as science-based reduction targets by the international Science Based Targets initiative ("SBTi")* in October 2019.
The SBTi updated its target validation criteria by adding two categories including "1.5˚C" and "well-below 2˚C" to its existing upper limit of temperature rise of "2˚C" above pre-industrial levels in December 2019 reflecting the IPCC Special Report on global warming of 1.5˚C published in October 2018.
The Group's targets were approved under the second strictest category of "well-below 2˚C"-aligned targets.
Daimaru Matsuzakaya Department Stores, a main operating company, is taking actions such as use of 100% renewable energy in the head office building (Koto-ku, Tokyo) and the Daimaru Shinsaibashi store to reduce GHG emissions. As a result of these efforts, the Group reduced Scope 1 and 2 GHG emissions by 6.0% in fiscal year 2018 compared to fiscal year 2017, which is the base year. Originally, we set the GHG reduction target for fiscal year 2018 at 3.9% below fiscal year 2017 in the same scope. So the Group steadily reduces GHG emissions.
The Group will take more proactive measures such as the expansion of the share of renewable energy and the strengthening of energy saving to achieve the targets approved by the SBTi.
* Established by a collaboration between four organizations including CDP, the UN Global Compact, World Resources Institute (WRI) and the World Wide Fund for Nature (WWF) in 2015 for the purpose of promoting the achievement of science-based GHG emissions reduction targets to limit the temperature increase to below 2˚C compared to pre-industrial levels.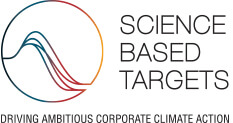 Support for TCFD Recommendations
The Group expressed its support for the recommendations of the "Task Force on Climate-related Financial Disclosures (TCFD)" that was established by the Financial Stability Board (TCFD recommendations) in May 2019.
And in Japan, the "TCFD Consortium" was launched on May 27, 2019 as an opportunity for holding discussions on effective corporate information disclosure and initiatives that lead disclosed information to financial institutions' appropriate investment decision making and we participated in it. We actively join the working groups organized by the "TCFD Consortium" with the hope of leading it to constructive dialogue with investors and financial institutions.
We disclose information in line with the TCFD recommendations in our Securities Reports, Integrated Reports, Sustainability Reports and the website.

Target Setting by Each Operating Company
With the aim of achieving GHG emissions reduction targets, the Group holds the Sustainability Committee meetings, which are chaired by the President and Representative Executive Officer, semiannually to share the action plans of each operating company and manage the progress. In addition, the Board of Directors receives reports about what was discussed at the Sustainability Committee meetings and discusses and supervises the long-term goals on ESG issues and the progress of actions.
<ISO14001>
Each operating company sets GHG emissions reduction targets separately. Daimaru Matsuzakaya Department Stores and Consumer Product End-Use Research Institute have ISO 14001 certified environmental management systems and promote environmental activities such as annual external audits. (In fiscal year 2020, the total revenue of Daimaru Matsuzakaya Department Stores and Consumer Product End-Use Research Institute, both of which obtained ISO 14001 certification, accounted for 51.0% of the Group's total revenue.)
Going forward, the Group will strive to strengthen governance in environmental management to achieve GHG emissions reduction targets.
Creation of Environmental Data Calculation and Aggregation Rules
The Group operates at more than 400 locations including department stores and offices in Japan and abroad. We have recognized we need a group-wide standardized system to calculate and aggregate environmental data, for example, accurately calculate GHG emissions at each operating company and location in the Group to achieve GHG emissions reduction targets. As part of building its foundation, we created Scope 1 and 2 GHG emissions calculation and aggregation rules in June 2019.
Firstly, in this process, we set the scope of the calculation and aggregation of the Group's Scope 1 and 2 GHG emissions. We clarified the Group's business locations, the period of time, and the types of emissions in Scope 1 and 2 to ensure the completeness of calculated and aggregated data on GHG emissions.
Next, we developed a system to manage the progress on GHG emissions on a monthly basis. We clarified the system to enter and check environmental data on a monthly basis, the way to manage the evidences that support actual energy use to ensure the accuracy of calculated and aggregated data on GHG emissions.
Going forward, we will introduce a system that centralizes the management of environmental data to improve the efficiency and accuracy of the calculation and aggregation of GHG emissions. Thereby we will strengthen governance to reduce GHG emissions.
In 2020, we introduced an environmental performance management system. Thereby the efficiency and accuracy of calculation and tabulation of GHG emissions will be improved and we will strengthen progress management by enhancing governance to reduce GHG emissions.
Acquisition of Third-Party Assurance
The Group thinks it is important to ensure accuracy and reliability and receive recognition from a third-party organization concerning the effectiveness of the environmental management system, energy usage, and actual GHG emissions, which are disclosed to stakeholders, in order to reduce GHG emissions steadily. To this end, the Group receives an independent assurance statement from Lloyd's Register Quality Assurance Limited (LRQA) for its environmental date on Scope 1, 2 and 3 GHG emissions, water and waste.
As the process of third-party verification, the effectiveness of data calculated and aggregated by J. Front Retailing was inspected. And in light of the current status of the Group's GHG emissions, on-site inspections of main stores of Daimaru Matsuzakaya Department Stores and Parco were conducted. The exhaustive calculation and aggregation of actual energy usage at more than 400 business locations across the Group and the accurate calculation and aggregation of data, each of which is supported by evidences, are recognized by the third-party organization.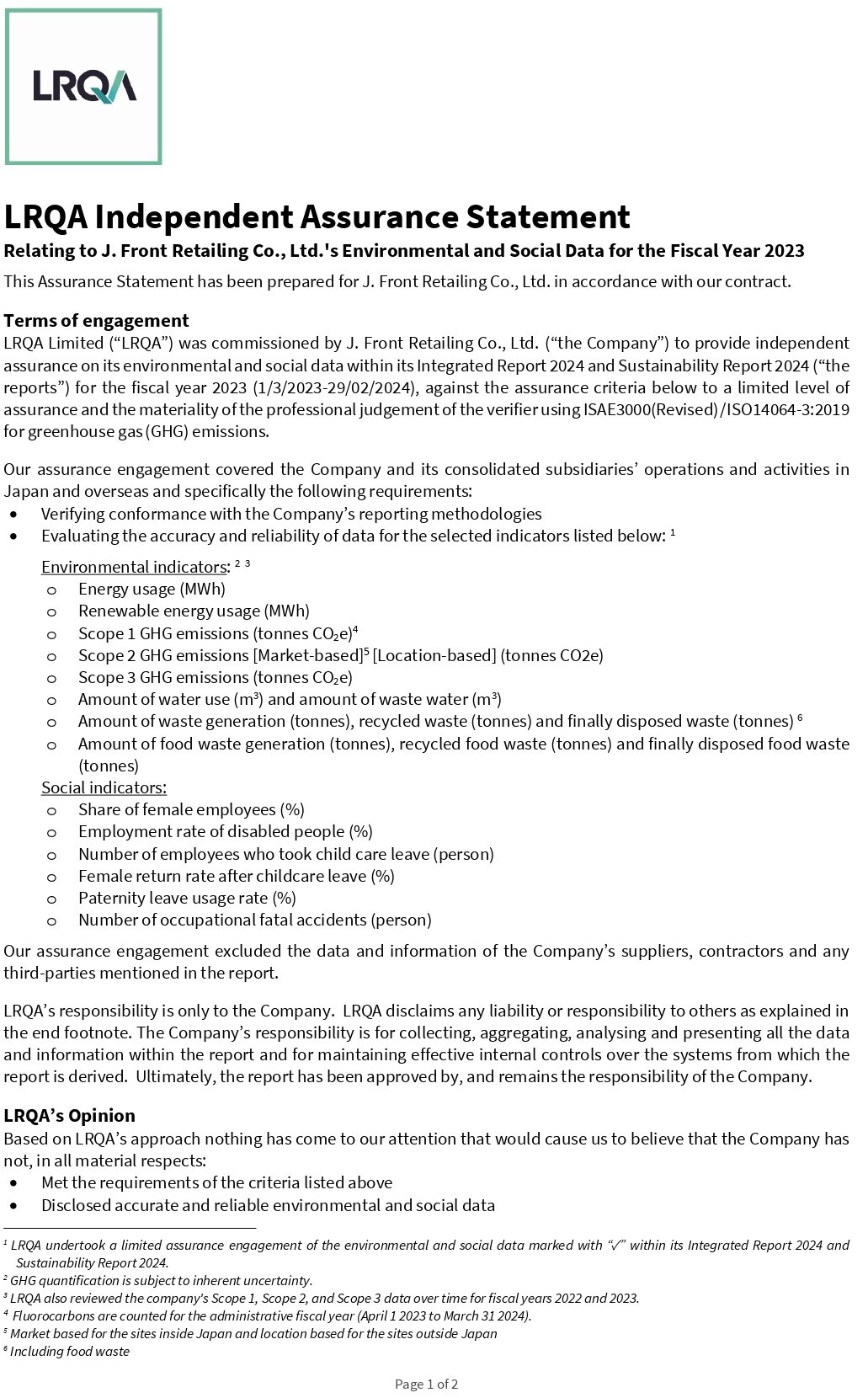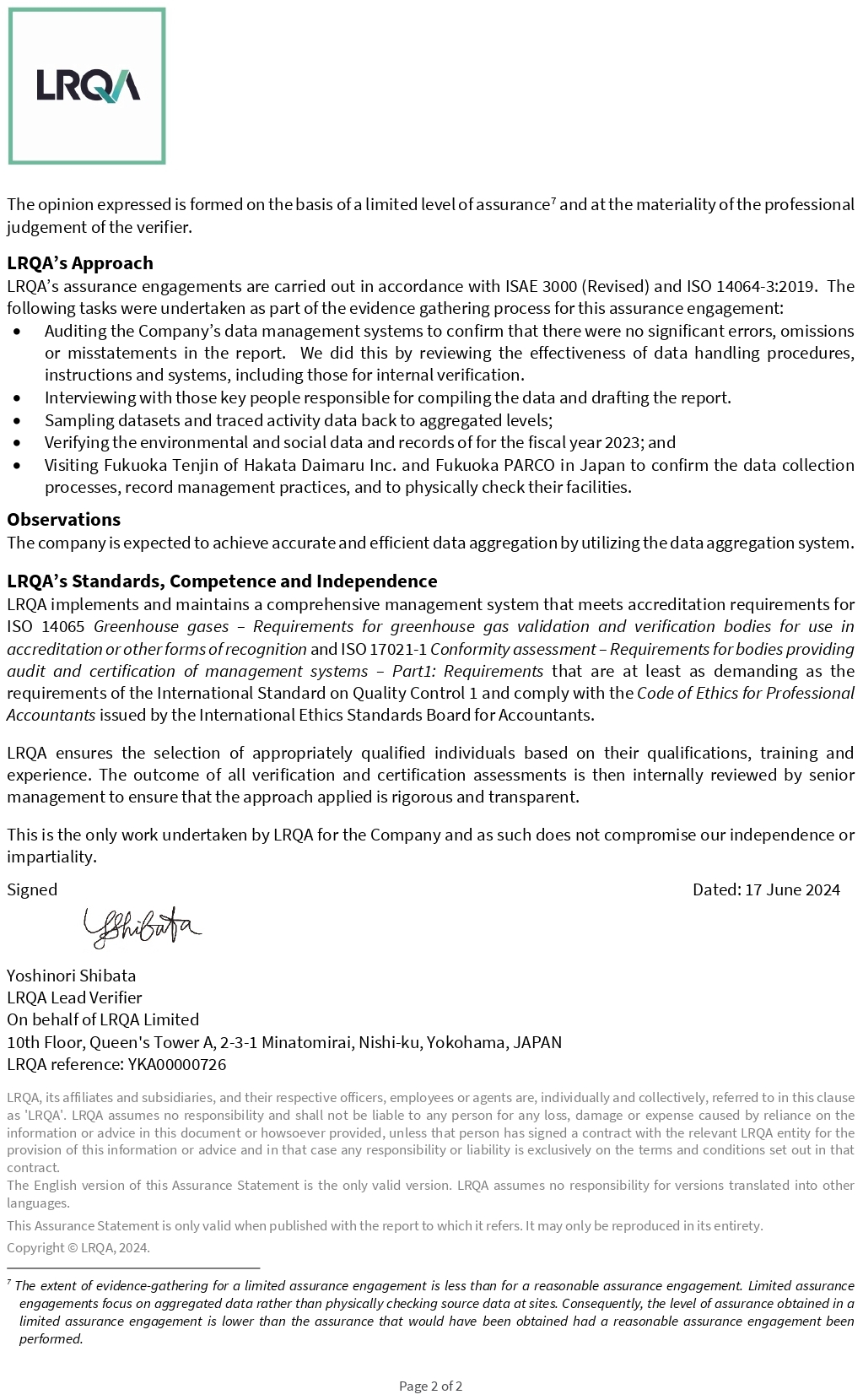 Independent assurance statement
Environmental performance data for FY2021 (Scope 1 and 2)
The Group energy usage and GHG emissions
 

 

Unit

FY2021

YoY change

Energy Usage*

City gas

MWh

64,632

11.3

Heavy oil

MWh

49

▲24.6

gasoline

MWh

3,011

2.8

Natural gas

MWh

0

▲100.0

Light oil

MWh

105

19.3

Electricity

MWh

305,752

5.9

Steam/cold water/hot water

MWh

54,500

0.7

Total

MWh

428,049

6.0

Ratio of renewable energy to rotal electricity usage*

Usage

MWh

62,156

109.7

Renewable energy ratio

%

20.3

10.0

Scope1 and 2 GHG emissions*

CO2

t-CO2

121,176

▲7.7

HFC

t-CO2

1,636

101.2

Total

t-CO2

122,812

▲7.0
* Received third-party assurance from LRQA Limited.
The Group GHG emissions by operating company
 

FY2021

Emissions(t-CO2)

% share

% YoY

Daimaru Matsuzakaya Department Stores Co.Ltd. *1

89,364

72.76

▲6.2

Parco Co.,Ltd. *2

31,989

26.05

▲8.0

JFR Card Co.,Ltd.

19

0.02

0.4

J. Front Design & Construction Co.,Ltd.

186

0.15

▲30.3

Daimaru Kogyo,Ltd. *3

189

0.15

▲6.0

Consumer Product End-Use Research Institute Co.,Ltd.

107

0.09

▲13.0

Angel Park Co.,Ltd.

685

0.56

▲13.4

JFR Information Center Co.,Ltd.

149

0.12

▲38.7

J.Front Retailing Co.,Ltd.

123

0.10

▲4.7

Total J.Front Retailing Group

122,812

100.00

▲7.0
*1 Daimaru Matsuzakaya Tomonokai Co., Ltd., JFR Service Co. Ltd., The Hakata Daimaru, Inc., and Kochi Daimaru Co., Ltd. are included.
*2 Parco Space Systems Co., Ltd., Parco Digital Marketing Co., Ltd., Parco (Singapore) Pte Ltd, Japan Retail Advisors Co., Ltd. are included.
*3 Daimaru Kogyo International Trading (Shanghai) Co., Ltd., Daimaru Kogyo (Thailand) Co., Ltd., and Taiwan Daimaru Kogyo, Ltd. are included.