Support for the Next Generation
Support for the Next Generation
Contribution to resolving the issues of the child-rising generation
With the aim of taking away some of the worries and inconveniences that accompany early childhood parenting, we launched the operation of unlicensed infant child care facilities that provide both enhanced early-childhood education and extended-hour child care. We will operate the facilities under franchise in collaboration with Tact Kodomomirai Co., Ltd., a group company of Yaruki Switch Group Holdings Co., Ltd., to provide a curriculum including not only "intellectual training" but also "physical exercise" and "English." The first facility named "Daimaru Matsuzakaya Kids Duo International Aobadai" opened in Aoba-ku, Yokohama in April 2019.

Chibikko Geidai (Art college for children)
From September 2012, we hold workshops with the students of Tokyo University of the Arts to create artworks. Each workshop attracts many participants because they provide children at sensitive ages with opportunities of being exposed to art and experiencing the joy of creating something new. At each workshop, the students decide what to create, and sometimes, parents become more absorbed in these artworks than their children due to their high quality.
In January 2017, we painted pictures and put paper on paper in the motif of the Chinese zodiac animal (rooster) to make masks in the Matsuzakaya Nagoya store.
Workshops were held in: Matsuzakaya Nagoya, Matsuzakaya Toyota, Daimaru Shinsaibashi and Matsuzakaya Shizuoka stores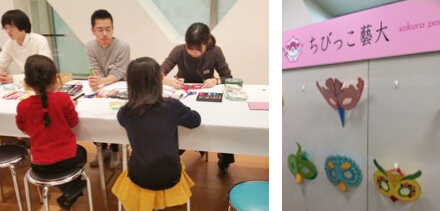 Support for the next generation artists
The Matsuzakaya Nagoya store exhibits and sells the paintings and 3D works of the next generation artists ranging from existing art university students to active young artists on a regular basis.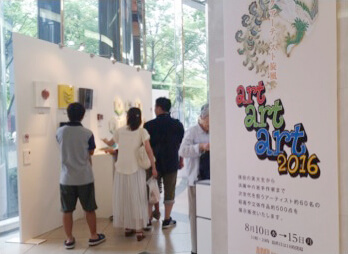 Coexistence with Local Communities