Evolution from 3 Rs to Circular Economy
Evolution from 3 Rs to Circular Economy
What the Group Aims to Be
Capitalism has grown based on the "linear economy" premised on mass production and mass consumption since the industrial revolution. On the other hand, various global environmental issues are worsening due to the explosive growth of the global population and improved living standards.
In this situation, there is an increasing importance of a "circular economy," which maximizes the efficiency of use of natural resources and products and minimizes waste generation. A circular economy is an economic system in which we use natural resources and products efficiently and cyclically, minimize waste generation, and commercialize such practices.
To date, the Group has practiced the 3 Rs* to solve global environmental issues and has gained support from stakeholders.
Going forward, the Group will evolve and expand 3 Rs centered on four key actions to realize a circular economy, and by doing so, aim to reduce environmental load and seize new business opportunities at the same time.

*The 3 Rs stand for Reduce, Reuse and Recycle.
[4 key actions]
●Reduction of food waste
●Reduction of plastic waste
●Expansion of project with customer participation ECOFF
●Expansion of fashion subscription business AnotherADdress
Think GREEN Initiative
In April 2020, Daimaru Matsuzakaya Department Stores launched the Think GREEN initiatives with the aim of promoting the realization of a circular society as mentioned in the Eco Vision with customers.
When Daimaru Matsuzakaya Department Stores announced that it would start charging fees for plastic bags in June, it also launched a website where various environmental activities are posted. First, as we started charging fees for plastic bags, we encourage customers to bring their own bags at all stores. We created a special web page "Let's MY BAG," which features reusable shopping bags recommended by each store to reduce the use of plastic bags with customers.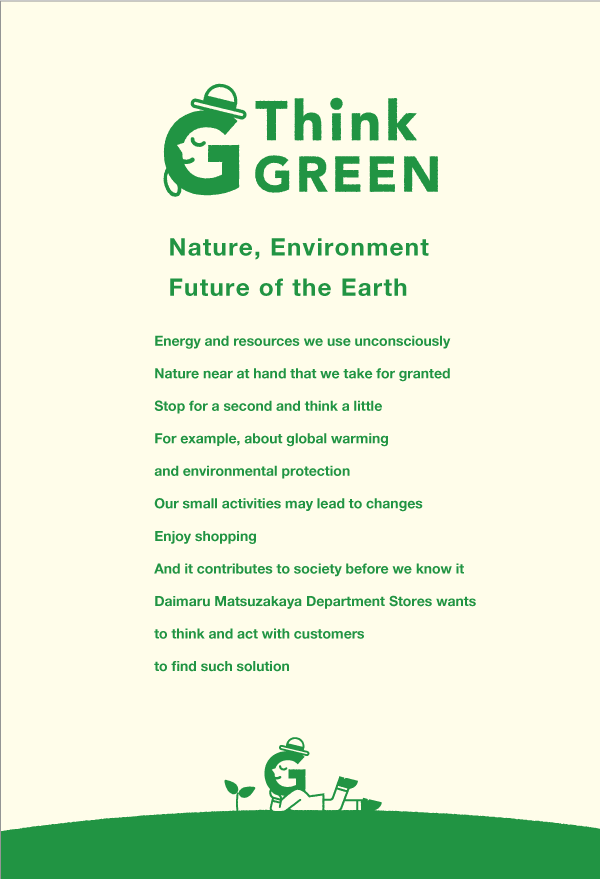 ECOFF Initiative
Daimaru Matsuzakaya Department Stores works on the Think GREEN initiatives to offer sustainable products and services.
Through ECOFF, which is one of these initiatives, Daimaru Matsuzakaya Department Stores collects disused clothing, shoes and bags from customers in its stores to recycle and reuse them. It is a sustainable initiative to reduce environmental load with customers.
ECOFF started in 2016 and we collected a total of 836.4 tons of articles up to fiscal year 2020. In 2021, we launched a new initiative Cosme de ECOFF to collect plastic cosmetics containers and it is established as a project with customer participation. Even amid the COVID-19 pandemic, this initiative gains popularity from customers partly due to contactless collection boxes.
Going forward, we will expand the items to be collected and review its collection scheme to collect a total of 3,000 tons of articles, which is a KPI to be achieved by 2030.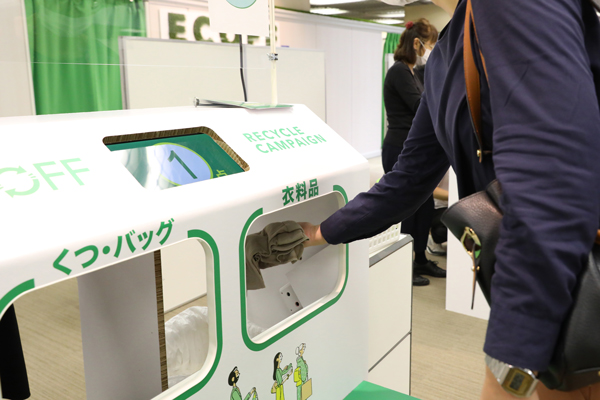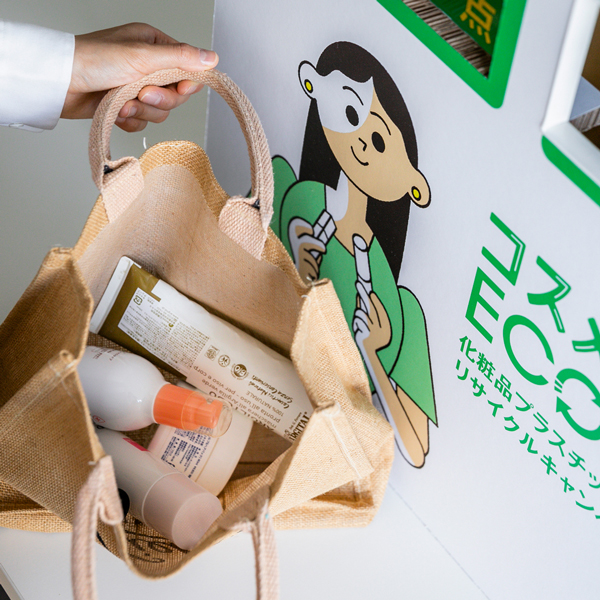 Launched Fashion Subscription Business AnotherADdress!!
The Group will invite tenants that carry products for sharing and upcycled products and enter new businesses in collaboration with suppliers by 2023 to realize a circular economy.
Daimaru Matsuzakaya Department Stores took the initiative by launching a fashion subscription business AnotherADdress in March 2021. Daimaru Matsuzakaya Department Stores as its operating body accepts orders from customers and delivers clothing in partnership with a 3PL* company, a delivery company, a cleaning company and a recycling company, which promote unique sustainable initiatives.
Through the subscription-based stock business that accepts all orders online, AnotherADdress will try to depart form dependence on physical stores in a conventional department store business and aim to develop as a scalable platform.

* 3PL stands for third-party logistics. It means that a third-party logistics provider, which is different from existing logistics provider of the shipper, undertakes logistics services collectively through the provision of a logistics consulting function and a logistics information system.
Promotion of Circular Economy