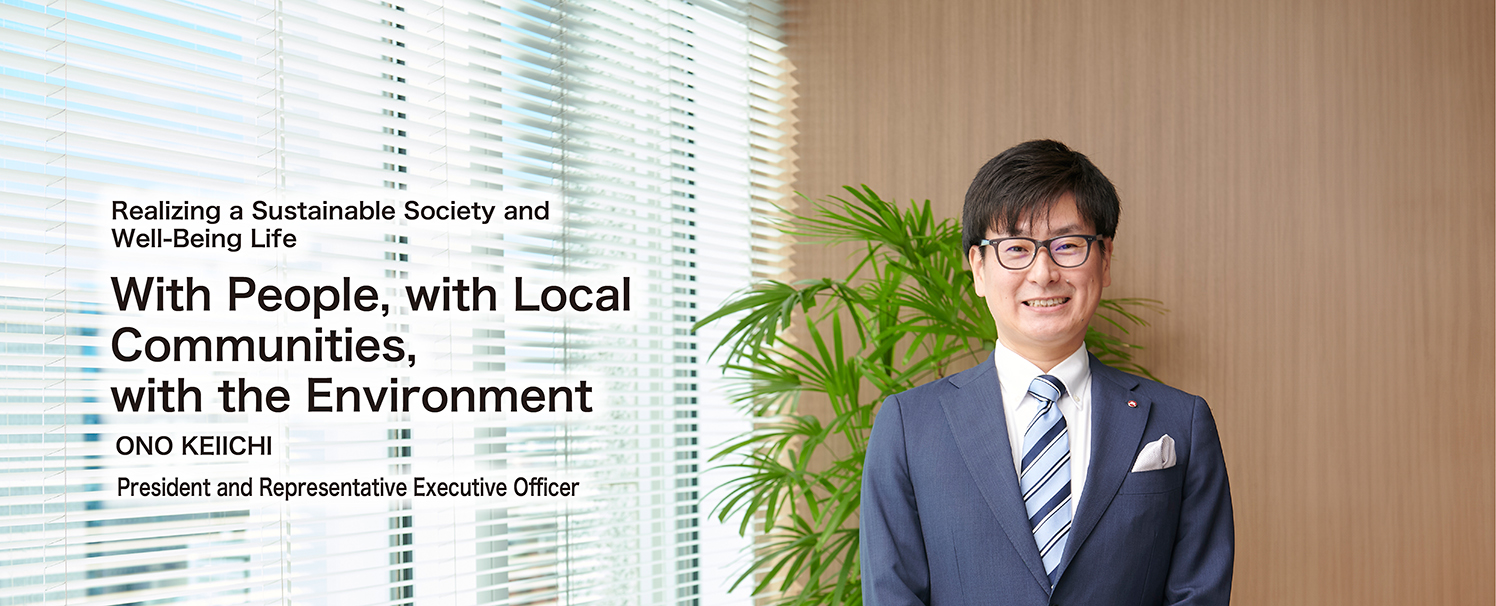 As you already know, there is not a moment to lose in responding to global environmental issues such as global warming and marine pollution. In recent years, there have been a variety of events, including the Great East Japan Earthquake and the current COVID-19 pandemic. As a result, issues such as responses to natural disasters and issues related to nuclear energy have been exposed.
In addition, the COVID-19 pandemic caused my country first-ism and economic disparities around the world. We have to think about why they happened. Earthquakes and viruses are just one trigger to reveal the stark facts we have deliberately ignored until now. The scheme of things that we have accepted as a matter of course such as the capitalist economic system that has made the world go round until now and the fact that our company has grown in the system has already exceeded the limits. We will not be able to survive just by turning a blind eye to the underlying truths and chasing immediate profits as we did in the past.
We must continue to protect what our predecessors have left. And we must pass down them to the earth of the future and the children of the future. This applies not only to the environment but also to companies. To this end, we have to change ourselves. Now, in this era when we live, we are at a crossroads.
Companies cannot survive without the help of the environment and society. Meanwhile, companies must actively engage with society. As a mission of a company, which is a member of society, we must work proactively to resolve issues that can be resolved, no matter how large or small their impact on society is. On the other hand, companies are for-profit organizations. Unless companies generate profits and achieve sustainable growth, they will not be able to survive.
At present, what is expected of us is to resolve social issues, and at the same time, to achieve corporate growth, which may conflict with each other, with a long-term horizon. In order to solve this difficult challenge, which no one has achieved so far, we have no choice but to clarify the direction we should be aiming at in the midst of a violent stream and to step forward with our own feet. That is the "sustainability management" that I have set forth this time. Sustainability management is a major prerequisite for all corporate initiatives. We must constantly consider solutions to this unknown challenge while realizing sustainable corporate growth.
The J. Front Retailing Group (the "Group") has defined the concept of sustainability management and Well-Being Life as the goal of the Group Vision and has decided to enhance and expand materiality issues in the Medium-term Business Plan, which started in fiscal 2021. Sustainability management is a management that simultaneously solves social issues and achieves corporate growth. Specifically, we will work on this challenge as Creating Shared Value (CSV). CSV is not a difficult thing. This is an initiative to resolve social issues and realize corporate growth through our own operations. Through these efforts, we will realize the Well-Being Life of all stakeholders including customers, employees and suppliers. In a word, Well-Being Life is the realization of a "both mentally and physically rich life." In order to achieve this, the Group will tackle the seven materiality issues.